A Tasty Late Night Dessert that is easy and healthy!  Leave the ice cream behind and try our delicious Fruit Crisp on Vanilla Cream.  It tastes decadent but delivers a big nutrition and protein boost.
One Serving contains 20 grams of protein (as much as 7 ounces of steak) and 225 calories.  The blast of protein will keep your blood sugar stable in the night and help you sleep well.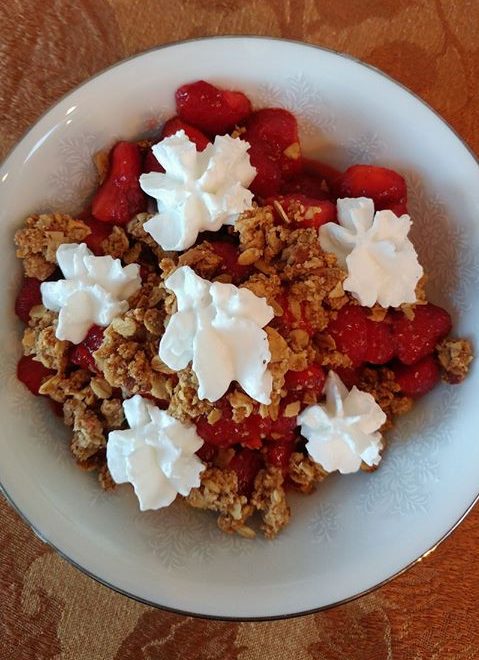 FRUIT CRISP ON VANILLA CREAM RECIPE
For each serving:
Mix together:
1/2 cup plain nonfat yogurt and
1/2 scoop of vanilla whey protein powder
Top with:
1/2 cup to 1 cup of sliced strawberries or any fresh natural fruit of your choice
sprinkle on 1 or 2 tablespoons of oatmeal topping (recipe follows)
1/4 cup of whipped cream. I use canned whipped cream and put 6 teaspoon size dollops on top.
ENJOY!
FRUIT CRISP OATMEAL TOPPING:
Combine:
1/2 cup old fashioned oats
1/2 cup whole wheat flour (or old fashioned oats blended into a flour)
1/2 teaspoon cinnamon
2 rounded tablespoons sliced almonds
2 tablespoons packed brown sugar
Add:
3 tablespoons softened butter and work the butter into the oat/flour mixture until it clumps up
Spread out this mixture on foil on a baking sheet and bake in a 350 degree oven for 10-12 min until golden brown.
Cool and wrap up extra topping in the foil to use later.  It will keep at least a week in the refrigerator.
It is never too late to change your late night snacking habits. Now your Tasty Late Night Desserts can be healthy too!
Share this article and let us know what your think about this recipe on our facebook page. https://www.facebook.com/CoachRobinB/
http://www.robinbeckercoaching.com