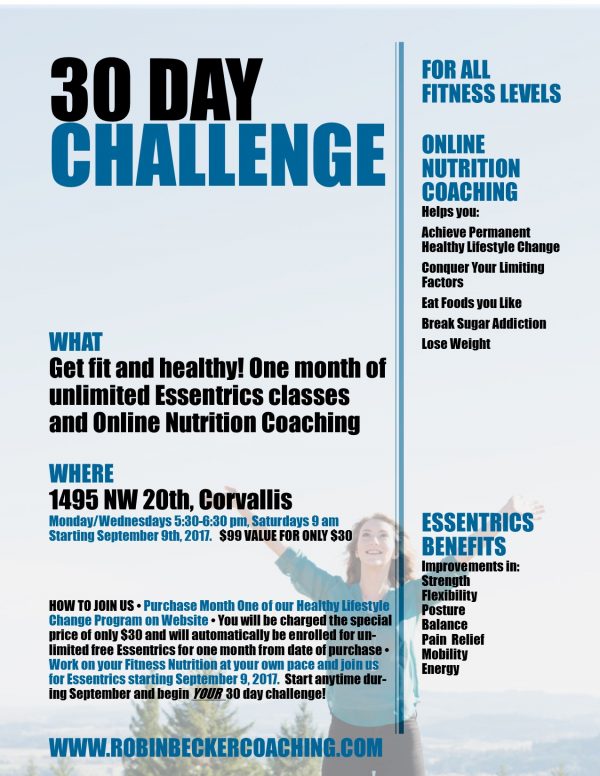 Plan to get fit and healthy in September! Join our 30 day challenge.  Here is how it works: Buy Month One Nutrition Coaching at  http://www.robinbeckercoaching.com/products.   Our Healthy Lifestyle Change program is an online fitness nutrition coaching you can do in the privacy of your own home.  This program gives you the keys and the support to achieve a permanent change to healthy eating, allowing you to lose weight and keep it off!  You will be charged the special price of $30 (normally $39) and will be signed up for free Essentrics classes from September 9th until October 9th, 2017.  You may join the 30 day challenge anytime in September.  If you join after September 9th, you will be signed up for free Essentrics exercise classes for one month after the date of your purchase.  Total value of Essentrics classes and one month of nutrition coaching is over $100.
Why do this?
Fall is an excellent time; a change of season; kids go to school; summer is over and people get more organized and motivated.
Try Essentrics and see how your body will change committing to this exercise 2-3 times a week.  You will have noticeable improvements in your strength, flexibility, energy, posture, and balance.  Most people with pain in their body notice major relief from this exercise technique. It will slenderize your body. Essentrics works to rebalance all the muscles and fascia in your body through movement and relaxation.
The other reason to try our 30 Day Challenge is for the improvement you can have in your health through healthy eating.  You need the knowledge and coaching to make SIMPLE CHANGES that provide big benefits. Only 20% of dieters keep their weight off for life.  The people who do keep weight off have developed personalized eating plans that use food they like and have learned how to handle the social situations and triggers that cause defeat.  Let Robin Becker Coaching help you be one of the 20%.  It is not that difficult.  YOU CAN DO IT!
Questions?  Email us at: email@robinbeckercoaching.com