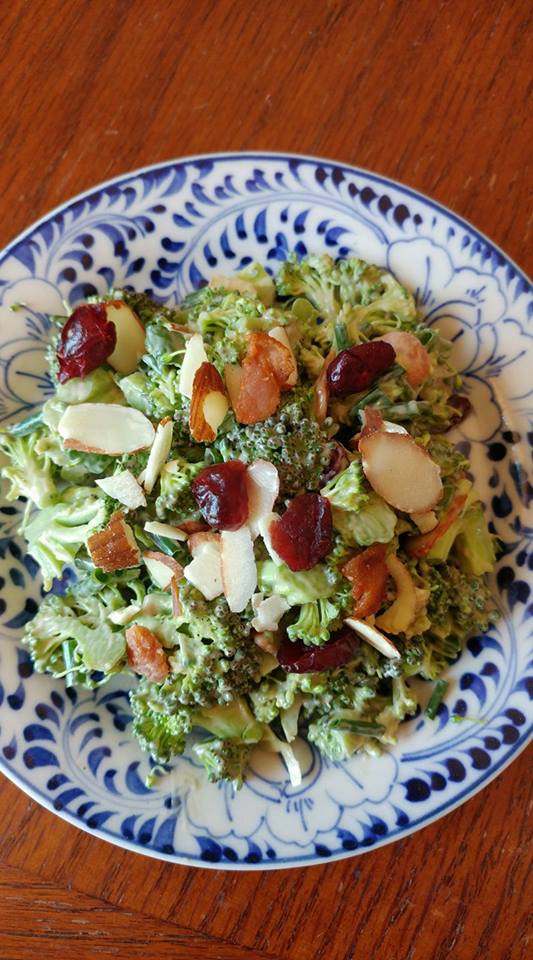 Healthy Broccoli Salad is a treat you can have often. Many people don't like cooked broccoli, yet it is the king of vegetables.  Here is a simple and yummy recipe using raw broccoli and tasty additions that have far less calories and fat than the original recipe.
You can use the tips we show you here to lighten up ANY recipe.  When fattening ingredients are added liberally and with a heavy hand, you can more than double the calories.  Then you may wonder why you don't lose weight when you eat salad every day.  Hundreds of calories can be added to a salad with liberal use of cheese, dressing, nuts, bacon etc.   Yet, these are the ingredients that taste good!  Did you know that the taste is just as great when these are sprinkled sparingly?  Try our lightened broccoli salad and see what we mean!
The original recipe calls for 8 pieces of bacon, 1/2 cup of raisins, 8 oz. of cubed cheddar, 1 cup of mayo and 1/4 cup of sugar.  Our recipe uses 2-3 pieces of bacon, 1/4 cup of craisins, 1/4 cup of sliced almonds, 1/2 the mayo and uses stevia instead of sugar.  The taste is still great.
LIGHT AND TASTY BROCCOLI SALAD
Combine: 1/2 cup olive oil mayo, 1 tablespoon rice or white vinegar and 1-2 packets of stevia to taste.  Add a little water to thin it a little. The idea is to dress the salad with as little dressing as possible and still lightly coat all the ingredients.  Depending on how large the broccoli head is, you could add 1 tablespoon at a time of mayo thinned with a little water if you need more.
Mix: 1 large head of chopped raw broccoli with 2-3 pieces of cooked and crumbled bacon, 1/2 cup of chopped red onion (or just use 2-4 tablespoons of fresh chopped chives instead), 1/4 cup of craisins (dried cranberries), 1/4 cup of sliced almonds.
Add the dressing and mix into the salad mixture.
Enjoy!
Remember our 30 day challenge coming in September.  Go to our Robin Becker Coaching website and sign up for Month One of our Healthy Lifestyle Change Program.  You will receive a discounted price of $30.  You can start developing your own permanent healthy lifestyle and start losing weight.  If you live in the Corvallis Oregon area, you will automatically be enrolled for free Essentrics lessons for one month from date of purchase; a special added value.
This week your theme should be HOPE.
As long as you are willing to persevere and keep trying, every situation in your life can improve.  Being thankful truly empowers your outlook.  If you have never succeeded in dieting before – never say never!  Fall 2017 is a great time to start making steps toward lasting lifestyle change.
Sometimes we just are too radical in our efforts and expectations.  Sometimes we just need to lower our bar and work on smaller achievable goals!
Let Robin Becker Coaching help you succeed.
See http://www.robinbeckercoaching.com for more information.
Have a great week!