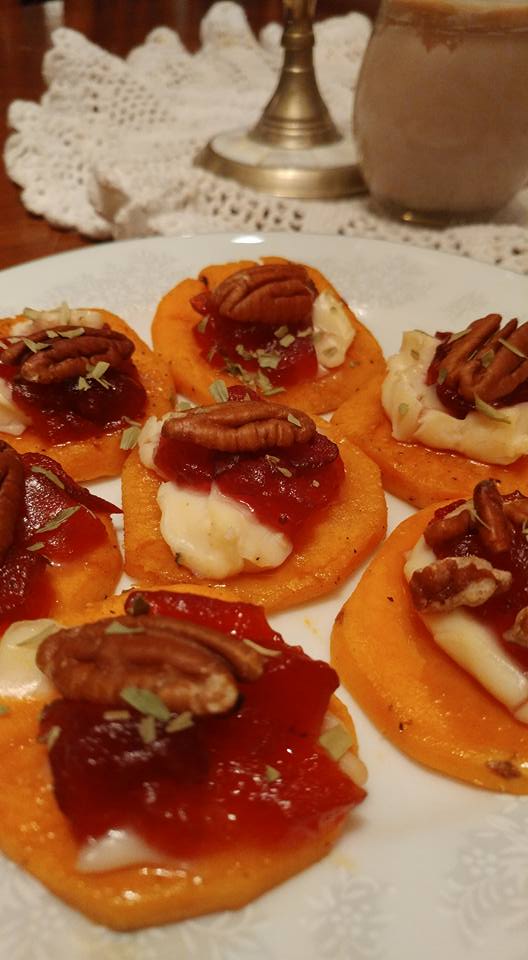 Happy Thanksgiving from Robin Becker Coaching!  This coming week will be full of family, food and festivities. Try our Thanksgiving Sweet Potato Bruschetta.
May your week go smoothly with all your preparations and planning.  We came up with a gluten free appetizer or snack idea that is a legal feeding option on our Healthy Lifestyle Change program.  It has roasted sweet potatoes (counts as vegetable) topped with Brie cheese or Laughing Cow Light Swiss Cheese (protein source), low sugar cranberry sauce (some fruit), a pecan half (healthy fat and more protein) and a sprinkle of tarragon.  Try it out and let us know if you like it!
Thanksgiving Sweet Potato Bruschetta
Ingredients:
2 medium size sweet potatoes (yams)
1 can cranberry relish (like Pacific brand Organic Whole Berry Cranberry Sauce, with no high fructose corn syrup)
pecan halves
dried tarragon
olive oil
salt and pepper
Wedges of Laughing Cow Light cheese or wedges of soft Brie
Instructions:
Preheat oven to 425 degrees.  Spray cookie sheet with non stick spray.  Peel and slice the yams into circular slices.  Put into bowl and drizzle with olive oil, salt and pepper.  Lay out in single layer on the cookie sheet and bake for 13-16 minutes.  Remove from oven, flip the slices over and add approximately 1/2 teaspoon cheese, 1/2 teaspoon of the cranberry sauce, one pecan half and a sprinkle of tarragon.
Return to the oven on broil for about 5 min.
A serving size would be about 6 of these.
Enjoy!
P.S. – take a little time to think ahead about your week and come up with some action plans to use on your feasting day.  Perhaps work in some exercise, drink a glass of water before dinner, eat one plate of food, eat slivers of pie….or any other techniques that help you have success and feel good about your holidays.  I would love to hear what action plans work for you!
http://www.robinbeckercoaching.com