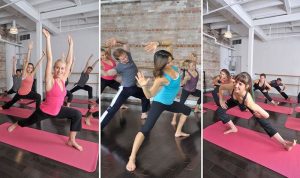 Rebalance your body, unlock tight joints, increase flexibility and strength, improve your posture and balance, and change the shape of your body.
Robin Becker Coaching recommends this low-impact, equipment-free class. It is perfect for men and women and will leave you feeling energized, youthful and healthy.
ESSENTRICS is a dynamic, full-body workout that simultaneously combines stretching and strengthening while engaging all 650 muscles.
Current Schedule 2019
NEW FALL CLASSES!
Starts September 9th, 2019
ESSENTRICS EXPRESS 1/2 HOUR CLASSES
Crossroads Christian Fellowship, 2555 NW Highland Dr., Corvallis
Monday mornings: 6:15 to 6:45 am and 7:00 to 7:30 am
Wednesday mornings: 6:15 to 6:45 am and 7:00 to 7:30 am
Saturday mornings: 8:00 to 8:30 am
These 1/2 hour classes are $3 each or unlimited classes at this location for $30 a month.
Come join us and be amazed at how these efficient, short classes can transform your body. Give us 30 days!
SNAP FITNESS ESSENTRICS CLASSES
Snap Fitness, 948 NW Circle Blvd, Corvallis.
Saturdays: 9:00 – 10:00 am
Bring water. Non-members welcome
First class free! $5 drop-in, punch cards available. $20 for 5 classes or $40 for 10 classes. Snap Fitness members pay $2 per class.
AGE REVERSING ESSENTRICS CLASSES
CHINTIMINI SENIOR CENTER, 2601 NW Tyler Ave., Corvallis.
Age Reversing Essentrics classes ongoing every Tuesday and Thursday from 1 to 1:45 pm.
$6 drop ins. $4-5 a class when you sign up for the entire session of 1 or 2 months.

Call the Senior Center for more information 541-766-6959.